How Much Do Traffic Cops Earn in Namibia?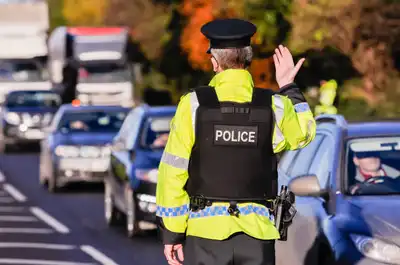 Every country has traffic officers' who enforces the rules of the road and signs. Namibia too has such kind of officers that ensure that all road users as well as pedestrians use our roads in an orderly and safe manner.
Though some accidents or crashes happens due to careless or mistakes but they are there to reduce such happenings. Note that, the determination for traffic officer's is to ensure safe and free flow of traffic to prevent road crashes and deaths on our roads.
How much do traffic cops earn in Namibia?
People earnings as traffic officers in Namibia makes a huge sum of money as compared to some countries. It is estimated that, a traffic officer in Namibia earns around NAD $10,900 per month. Namibian traffic officer salary ranges from NAD $5,000 NAD (minimum) to NAD $17,300 (maximum). The above figures are the average monthly salary including housing, transport, and other benefits.
How much do traffic officers in Namibia fines?
It is estimated that, in Namibia, a person is fined NAD $1000 if he or she is caught driving at 126 to 130 km/h in a 120 km/h zone. You are also to pay NAD $1500 if caught driving at 131 to 135 km/h, and NAD $2000 if caught driving at 141 to 145 km/h. A fine of NAD $4000 will be imposed if someone is caught driving at 161 km/h or more in a 120 km/h zone.
How do I become a traffic officer in Namibia?
For one to become a traffic officer in Namibia, applicant must possess a Grade 12 with a minimum of 25 points. Bachelor Degree in Adult Education and Community Development. Bachelor Degree in Criminal Justice/Policing. Basic Traffic Diploma or Basic Police Diploma (will be an added advantage).